Hello Everyone!
Martina here again with a "Sparkle & Shine" Video on the WOW Youtube Channel.

For todays tags, I have been playing with the WOW Flock - a product which I use way too little!
To start, I have been die cutting some tags from Mixed Media Paper.
(All the beautiful dies I have been using today are Alexandra Renke Dies!)
Then I have been stamping with Embossing Ink to the plain tags, poured Opaque Bright White Embossing Powder over it and melted the powder with the Dual Speed Heat gun.
This is a great first step when you are planning on working with watersoluable medias
- it is adding a nice resist to the background!

Then, I have been colouring my tags. I have been using Starburst Sprays, but you can use whatever you have on hand!

When the Tags have been well dried, I went back with some texture paste and a stencil to add even more white details to these backgrounds.
In the drying time of the texture paste I have been die cutting some flowers from cardstock. I have also prepared a piece of cardstock with double sided adhesive tape and cut some petals for the flowers from it.

And then it was finally the time to get to the Flock and Sparkles part!
I have been mixing a small amount of the Pink Flock and an equal amount of Crystal Sparkles in an empty Embossing Powder Jar.
That mix could then be easily poured over the petals with the double sided adhesive tape on them. It sticks very well to the adhesive tape but I usually make extra sure that it stays put and rub it slightly into the adhesive tape with my fingers.
After this, the flowers just had to be assembled and glued to the tags.

I really hope you liked the tags and feel inspired to get creative!
Have a great day!
-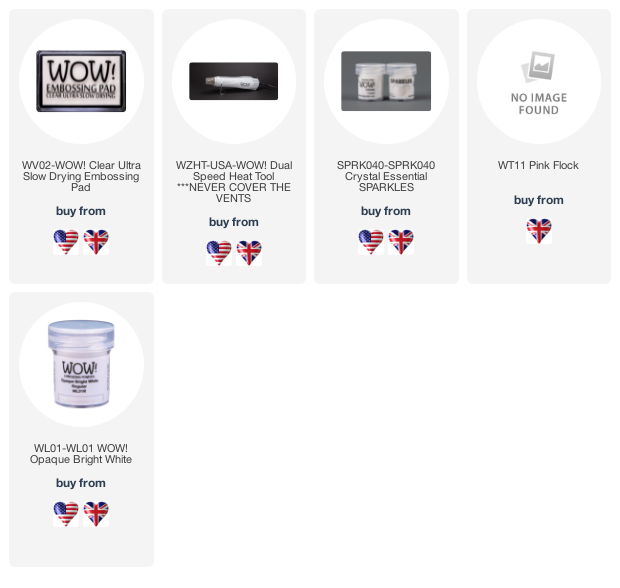 Powder Arts Thermography Warehouse LTD, Caslon House, Lyon Way, St Albans, AL4 0LB