Hello, it's
Verity
with another video and blog post as a Creative team member for WOW!
Love the look of Ombre but want to achieve that look with heat embossing? Well, you can and I'm showing you three ways to achieve that look. Whether you have just clear embossing powder, a limited selection of coloured powders or a host of colours to choose from, you can easily achieve that Ombre look with heat embossing and today I show you how with your sentiments.
Three ways to use heat embossing on vellum in card designs video:
(You can view this directly on WOW! Embossing Powder YouTube Channel
HERE
)
Three ways to use heat embossing on vellum in card designs photos:
Heat embossed ombre stamping - Clear Gloss embossing powder
Using a hello stamp from Honey Bee Stamps, ink up the top half of stamp in Mint to be by Catherine Pooler, stamping this onto white card stock. Repeat this 1-2 times, and use a paper towel to soften the inked edges before stamping. Clean the stamp and then ink up the bottom half of the stamp with a darker colour (I used Aquatini), again soften the edges with a paper towel. Repeat this one to two times again allowing the ink colours to overlap slightly and blend.
Once more clean the stamp, and now use your Clear ultra slowing drying embossing pad from WOW! to ink up the whole of the stamp, and stamp over your Ombre stamping. You can now cover the sentiment with clear gloss embossing powder from WOW! and heat set this. Catherine pooler inks can stay wet enough to add embossing powder, but as I stamped several times, some of the ink may have dried from the first colour, so re-stamping with your embossing ink means you are sure it is wet enough for your embossing powder to stick to.
Once the clear the powder is heat set, it gives a lovely glossy raised embossing over your Ombre stamping. This technique is great if you don't have many colours or your budget is limited as you can use clear gloss over any ink colour when combined with your embossing ink pad.
Ombre heat embossing with clear gloss and one colour embossing powder
For the second technique, this combines using clear gloss with an embossing powder colour. Layer 3 friends die cuts, using a die from Whimsy stamps and smooshed this into your embossing ink. This is a quick way to get ink on your die cuts. Next, half covered with Oceanic embossing powder from WOW! This is a gorgeous dark teal/aqua colour. You can easily limit where the embossing powder goes and only covering half the die cut will allow you to get an Ombre look. In addition, you can sprinkle some powder over other areas with your fingers. Make sure you heat set your powder.
To make the top half of the sentiment embossed, you smoosh the die cut into your pad once more and the cover with clear gloss powder. As you heat set this, it will melt and start to blend in with the darker colour. You can keep repeating these steps until you are happy with the blend and strength of the colours of your heat embossing.
This technique is great if you have a limited amount of embossing powder colours that aren't close with one another within the colour wheel.
Ombre heat embossing with multi colours of embossing powder
The last technique uses two colours of embossing powders - and I went for two metallics in this instance. So ink up a die cut as before (this time I'm using a Happy die from Altenew), and cover the bottom half with gold-rich pale powder from WOW! and heat set this. Now you could use clear gloss again on the top giving a faux gold dip dye look to the die cut.
But instead, I covered the top with Metallic platinum powder. When this heats and melts with the gold powder you get a beautiful blend between the two colours to give an Ombre look with a seamless appearance. The more layers you add, the thicker the embossed die cut will be.
To assemble the cards:
To finish these cards off, carry on the Ombre theme into the backgrounds. For the friend card, use Daydream ink from Catherine Pooler and blended this over the Altenew Grid stencil fading the ink out towards the bottom. This was on a card panel made from Sea Glass cardstock from Gina K Designs. In addition use a heat embossed sentiment from Altenew's Reason to Smile stamp set using Opaque bright white embossing powder to finish it off, along with a few Nuvo drops.
For the Happy the sentiment, add this to a Soft stone card panel from Gina K designs with Twilight and Black-jack Catherin pooler inks to blended through the Spring Garden stencil from Altenew fading the ink out. Again, used Opaque bright white to add a birthday sentiment from Altenew Birthday builder stamp set and finish this card off with some nuvo drops.
For the last card, fussy cut the sentiment out to add to a Tranquil teal card panel, adding a background with the Tiny bubbles stencil from Altenew. First, add white pigment ink through the stencil with the direct to paper method and used Daydream ink to blend out from this. Again, use another heat embossed sentiment from Reason to Smile stamp set and finished with Nuvo drops.
Supplies for three ways to use heat embossing on vellum in card designs: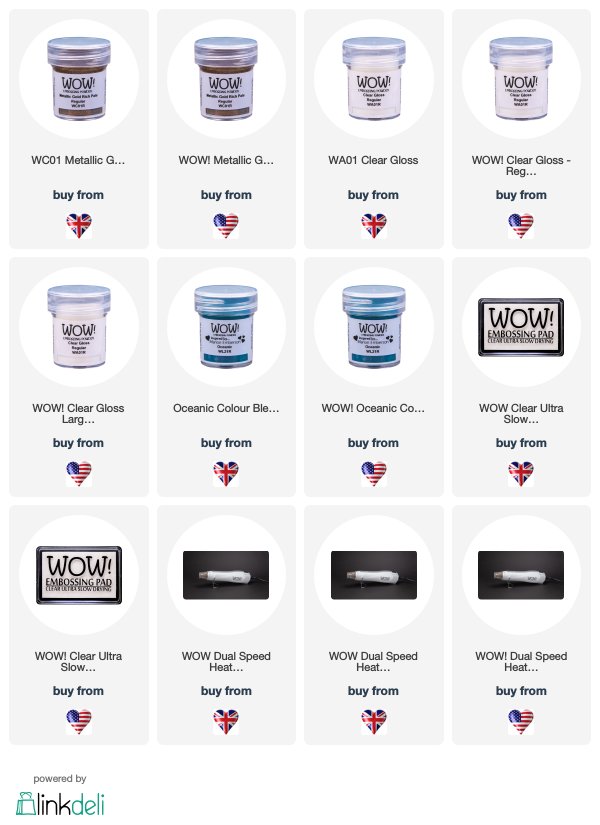 Other supplies used:
Stamps used: Hello (Honey Bee Stamps)
Stencils used: Grid, Tiny Bubbles and Spring Garden (Altenew)
Dies used: Happy (Altenew), Friend word and shadow die (Whimsy Stamps)
I hope you enjoyed today's video and stay tuned for more to come. If you make a card with this technique, make sure to tag us
#wowembossingpowder
so we can check your creations out!
Till next week,
Verity