Hello, it's
Verity
with another video and blog post as a Creative team member for WOW! Don't you just love the look of heat embossing on vellum? It can add such a lovely soft feel to the card and looks elegant with any design. Today I have 3 ways to use heat embossed vellum on your cards and can be used with a whole host of embossing powders colours and used for any occasion. The only limitation to this technique is your imagination, so make sure you play and experiment!
Three ways to use heat embossing on vellum in card designs video:
v
(You can view this directly on WOW! Embossing Powder YouTube Channel
HERE
)
Three ways to use heat embossing on vellum in card designs photos:
For the first heat embossed vellum card, we are going to create an embossed vellum overlay with an ink blended background. For this card, use the

Handpainted

stripes stencil from Thirsty Brush and Co along with two Catherine pooler inks.
To start off with, tape the stencil down to some WOW! Superior smooth cardstock (this is great for ink blending!). Using some ink blending tools, apply 'Rose petal ink to the top of the card fading this out as you move down the stencil. For an Ombre background, use Peppermint scrub as the second colour, applying this to the bottom of the stencil and blending this into the Rose Petal ink colour.
Next, remove the stencil and set this to one side. Trim a piece of vellum down so it is roughly 1/2" smaller and once you've cleaned then stencil, position this over the vellum. For a quick way to apply your clear ultra slow drying ink from WOW! you can do the direct to paper method (or vellum in this instance), and directly smoosh the ink pad down onto the vellum through the stencil. And you can do this quite liberally.
For this card, use metallic copper embossing powder from WOW! as this pairs lovely with the pink tones of the stencilled ink blended background. Cover with the powder and heat set with your dual speed heat gun. And depending on the weight of your vellum, you may want to use the slower speed to heat set the powder to reduce warping with thinner weight vellum. And to prevent scorching of the paper. You will find embossing powder on vellum heat sets quite quickly.
For the rest of the card, add a layered happy die cut sentiment from Altenew. To help tie this in with the background, add ink to the top layer to create an Ombre look and back this with an offset black die cut for a shadow. I used my favourite way to add a secondary sentiment by creating a black strip with white heat embossing using the Opaque Bright white powder from wow! It allows the sentiment to pop off the card! Just as a finishing touch, I added a few white nuvo drops.
For the second way to use heat embossed vellum, we are going to create a shaker card. Shaker cards require a window with a barrier to keep the contents in - usually acetate. But instead, this will be made out of our vellum element. Positioned several stamps from the Leaf canopy stamp set from Altenew into the Misti and stamp these onto a sheet of vellum with the embossing ink.
This was covered with Metalline Himalayan Musk embossing powder from WOW! As I wanted to continue the dusky pink/red colour scheme in this series of cards. I would be advise when stamping on vellum to use an Anti-static bag if you have one, as vellum can have a lot of static and although WOW! Does remove the static from their powders, you may find stray powder sticking on vellum.
To create the shaker window, die cut a circle from a white card panel and some fun foam sheets. To try and align the windows up, you can position the die back into the cut out from the white card panel. The place this over the fun foam and draw an outline. You can then remove the card panel and realign the die over the outline to cut it out. For enough dimension for the shaker, use two layers of fun foam.
To trim the heat embossed vellum down, align the die cut window over the top to decide what part of the design you want. Liquid glue is great for adhering your layers together, along with tape adhesive, as it gives you some wiggle room. For the shaker elements, add a selection go sequins - the sequin mix used here is from Lucy's cards called Sunset, which had some lovely pinks/reds and gold sequins in it. Then when you have enough shaker elements inside, adhere your card base down over the window, securing the contents inside.
To step the layered die cut sentiment up on this card, I masked an area with some washi tape and smooshed the die cut into my embossing pad. Then remove the washi tape and cover with embossing powder to get a dip dye look to the sentiment. This embossing powder is Perissa which I use on another card later on.
The secondary sentiment comes from the Reason to Smile stamp set from Altenew, created by masking of several sentiments from the set to get the phrase 'you are stronger than you think'. Again the card was finished with some White Nvuo drops.
For the last way to use heat embossed vellum, we are going to create an alcohol ink background on vellum to then directly heat emboss over the top. Alcohol inks move over the surface of vellum really well and can create a lovely soft look to the finished background.
Use Flamingo and Wild plum alcohol ink colours to start off with, adding drops of colour to the vellum and use a straw to blow through to move the ink about. Make sure your room is well ventilated when you're doing this.
To soften the colours and allow them to blend even more, add some blending solution. You may wish to use an additional colour like Coral for added variation. You can get some really interesting abstract backgrounds with this technique - you will never get a background the same each time you try this.
Before heat embossing on this background, make sure the ink has dried completely, otherwise, the embossing powder will stick to the sticky ink. As I used half a sheet of A4 vellum, I could trim the background down to get two panels for cards.
To heat emboss, position the panel in your Misti and stamp in embossing ink the rose from Altenews Inked rose stamp set on top of the alcohol ink and use Perissa embossing powder. This has a lovely mix of silver, gold and copper colours and blends and melts together to create a beautiful varied finished. For a more softer toned down look, you can also heat emboss on the back of the vellum alcohol ink panel where the colours show through but more are muted. So you can get two looks with this one technique.
Create layered die cut sentiments for the cards,. The two used here are from Lil' Inker designs- celebrate, and one from Honey Bee Stamps - beautiful, as well as some secondary sentiments from the reason to Smile stamp set. Again, adding these as black strips with white embossing.
Adhere the sentiments to the vellum panels first before adhering the vellum panel to the card base. This allows you to hide the adhesive on the vellum behind something so it doesn't show through and the sentiments are great for hiding the adhesive. In addition, you can also add some small dabs of glue behind the embossed areas as well for additional security to the card.
I didn't embellish these cards as I think they didn't needed anything else as it would distract from the bold organic background and the sentiments, as well making the design too busy detracting away from the floral stamp.
Supplies for three ways to use heat embossing on vellum in card designs: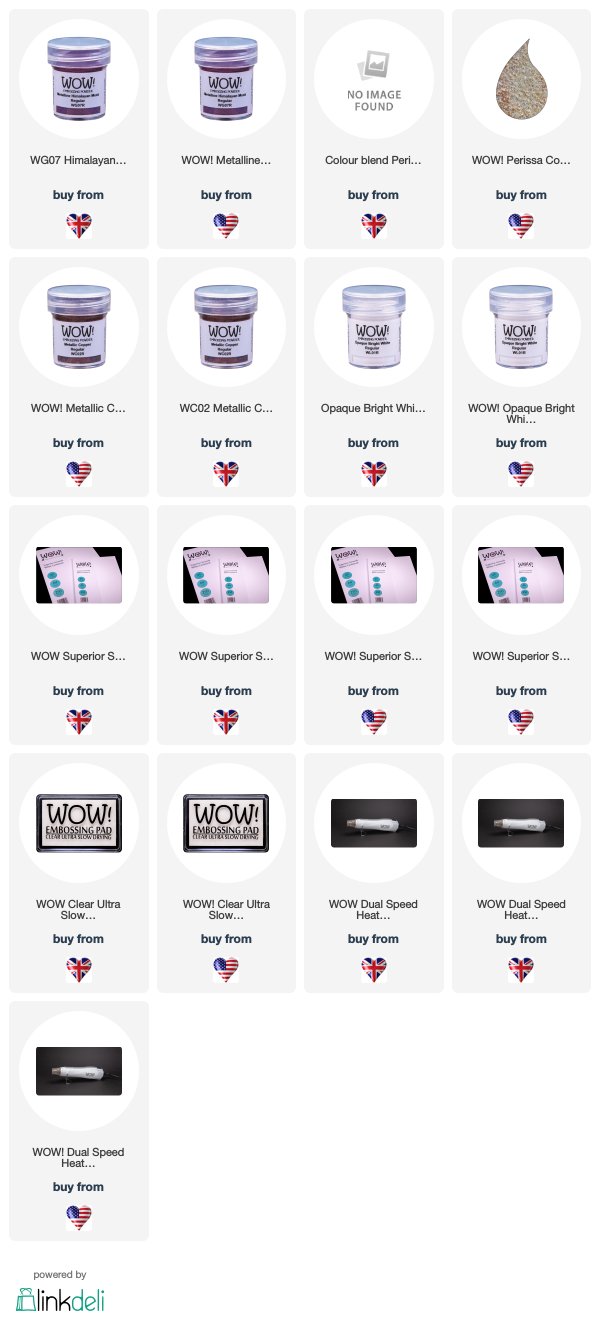 Other supplies used:
Stamps used: Leaf Canopy (Altenew), Ink Rose (Altenew), Reason to smile (Altenew), Birthday Builder (Altenew)
Stencils used: Handpainted stripes (Thirsty Brush & Co)
Dies used: Happy (Altenew), Hello (Birch Press Designs), Circle (Sizzix), Celebrate (Lil'Inker Designs), Beautiful (Honey Bee Stamps)
I hope you enjoyed today's video and stay tuned for more to come. If you make a card with this technique, make sure to tag us
#wowembossingpowder
so we can check your creations out!
Till next week,
Verity