Hi Everyone!
I've got a fun but simple technique today that uses all over heat embossing with WOW! Changers to create a subtle tone on tone look that works great for any type of card - just change up your stencil, stamp or embossing powder color to fit your theme.
The embossing powders I used today are metallic. These mix fabulously with the changers to get an unusual effect. I'm using Metallic Rose Gold (on the left) and Etched Platinum (on the right, from the Seth Apter Metalz Trio).
I created a video showing how I created each card which you can find here or over on WOW! Embossing's YouTube Channel.
For both cards, I completed coated a panel of WOW! cardstock (trimmed to 4.25" x 5.5") with embossing ink, then heat embossed once. My first card uses Etched Platinum.
Once I coated the panel, I mixed 2 small scoops of Etched Platinum EP in a Changers pot, with 2 small scoops of Texture Changer. I overlaid my heat embossed panel with the Snowflake Mandala stencil by Gina K Designs and pressed the ink pad over the top, then removed it. I sprinkled over the Changers Texture mix and heat embossed. Be careful not to overheat or you'll lose the gorgeous tone on tone look that results!
I adhered the panel to a 110lb note card. For my sentiment, I stamped 'For You' from Altenew's Mega Label Love in Altenew Obsidian Pigment ink - the benefit of using pigment ink is it stays wet a little longer and so can be heat embossed. I used the Sheen WOW! Changer just to see what happens - it adds a unique, almost iridescent sheen over the top - quite different from if I had used Clear EP. I trimmed out the sentiment and popped it up on foam tape.
For my next card I used Rose Gold and coated a panel of WOW! cardstock as before, this time heat embossing in Rose Gold. I mixed 2 scoops of Rose Gold with 2 scoops of the WOW! Glisten Changer (my favorite - did you know you can buy these separately now!!). I inked up the large heart stamp from the WOW! Hearts & Twine stamp set with embossing ink and then stamped it directly onto the panel. Be careful, the surface is quite slick so the stamp can slip.
I added my Glisten/Rose Gold mix and heated. I repeated this several times along the left side of the. panel with the large and small hearts, and the fireworks-esque stamp, heat embossing as I went, to create the tone on tone look once more, with a little sparkle in it. You can see how the light catches those sparkles in the top of the photo above.
I finished the card the exact same way as the first, using 'Celebrate' from the same Altenew Mega Label Love stamp set.
This is a subtle effect with the Changers, but great for backgrounds, clean and simple heat embossing and particularly more masculine cards. I just love that effect, and I hope you do too!
Jenny
Supplies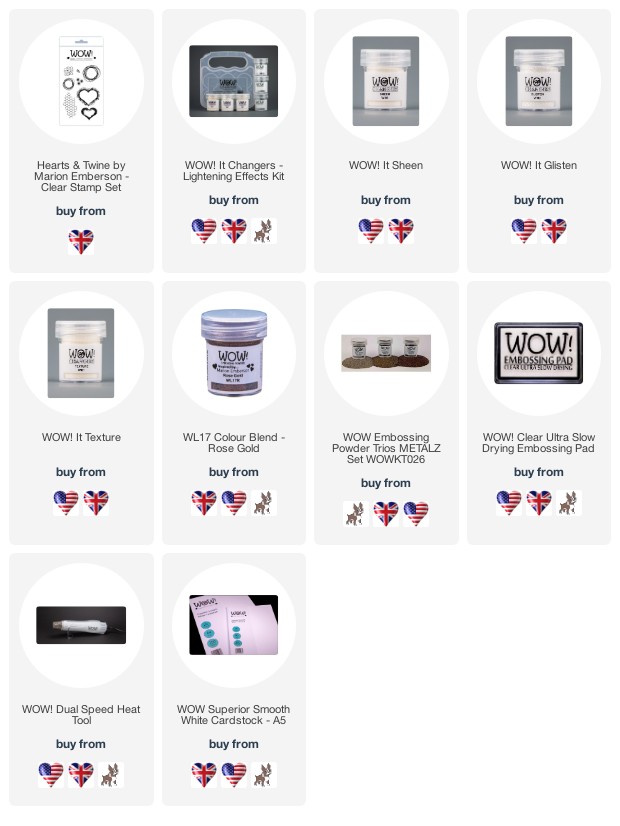 Powder Arts Thermography Warehouse LTD, Caslon House, Lyon Way, St Albans, AL4 0LB