Hi Everyone, Jenny here, and I'm still playing with all the gorgeous new trios that were released by WOW! last month. Today my focus is on the wonderful Dockside Trio Inspired by Jo Firth-Young. This has one of my favorite new powders that was released - Sparkling Sand!
I have three cards to share, all of which feature a different technique for using stencils with your embossing powders for a clean and simple look, and there's a video showing how I created them which you can check out
here or over on YouTube
:
For all three cards, I'm featuring stencils by Gina K Designs, and a stamp set from Simon Says Stamp.
For my first card I used the direct in pad to stencil technique - simple adhere your stencil to a piece of white cardstock, take your WOW! Embossing ink pad and swipe it over the stencil, pushing gently into the holes to push ink through onto the cardstock. I used a powder tool on the cardstock before adding my stencil, then Pixie Spray to adhere my stencils as they are very detailed. You could use tape for less detailed stencils. This stencil is the Stellar Snowflake from Gina K.
I lifted off the stencil and heat embossed the image with the Sparkling Sand - a gorgeous pale goldy color you NEED from the Dockside Trio. I trimmed down the panel on either side to be 4" x 5.5" and popped it onto craft onto a white note card. I heat embossed the sentiment from the Simon set using WOW! Opaque Bright White embossing powder onto black card stock and die cut it with a circle die then popped into the centre.
For my second card, I repeated the first technique using the Oiled Slate powder from the Trio and heat embossed it - I used the Gina K Mandala Burst stencil this time, shifted off the side of a white panel of cardstock. I also stamped this sentiment from the Simon set directly to the panel in Versafine Onyx Black ink.
I then overlaid the stencil onto the heat embossed image again, and this time mixed up my own glitter paste - I love WOW! Neutral Ultra Shimmer embossing powder for this - I mix it with translucent embossing paste by using a palette knife, a craft mat, and pouring them together. I then added this directly over the top of the Oiled Slate and left it to dry. When dry you get this fabulous shimmer Oiled Slate PLUS sparkle embossing! You can heat the paste to melt the powder or just leave as is.
For my last card, I used the Gina K Snowflake Mandala. I also used up the rest of my Neutral Ultra Shimmer paste, moving the snowflake off the edge twice to get a fun different look. I lifted up the stencil and then sprinkled Glassy Ocean over the paste in places, and then heated, to get marbled almost ethereal effect.
Once again, I stamped the sentiment in black ink directly onto the cardstock panel. Check out that dimension in the close up!
See what other ways you can come up with using your stencils with heat embossing!
Jenny
Supplies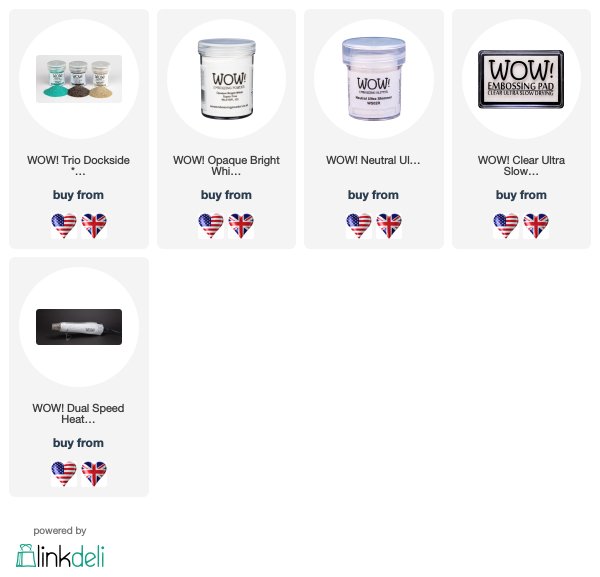 Info Site: www.wowembossingpowder.com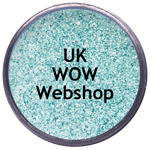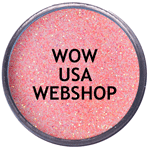 Powder Arts Thermography Warehouse LTD, Caslon House, Lyon Way, St Albans, AL4 0LB