Hello everyone! Please welcome our Guest Designer for the month of June
~ Rosali~
My name is Rosali and I am very happy to be joining WOW as a guest designer this month!! I'm a 30-something crafter, I live in Northern Germany with my hubby and you might know me under my social media nickname ilovestamping. Because I just loooove stamping! :-D
My little addiction with cardmaking started in 2014-half a year later I joined Instagram and met so, so many wonderful crafters there. I also finally started my own blog recently, yay! :-) I think it's just amazing to connect with people all over the world through this hobby!
It's Rosali from ilovestamping! I am super excited and delighted to be guest designing for WOW this month!! :-) I have a couple of fun cards to share with you over the next weeks and can't wait for you to see them. Today I am starting with a step by step tutorial for a watercolor card with WOW's super sparkly premium glitter and cute underwater critters from Lawn Fawn. I am also gonna share my favorite way of watercoloring stamped images! So let's 'dive' right in, shall we? :-D
Here is how I made my card:
First, I wanted to create a sticky sentiment to sprinkle my "Stroke of Midnight" glitter onto. Therefore I used Stick It adhesive sheets. I put a piece of these sheets onto my white cardstock and then die cut it with Lawn Fawn's "hello" die. I made sure to put the die on the side which had the Stick It backing paper on it and afterwards I went over the die cut piece with my bone folder to make sure the adhesive stuck really well to the cardstock. Then I carefully removed the backing paper using my tweezers:
I pulled out a piece of printer paper which would later help me to put the glitter back into the jar and then put glitter all over the "hello". I used my finger to slightly press the glitter a little more onto the adhesive. Now my sentiment had all this beautiful sparkle to it – mainly dark blue and silver but with some gorgeous color variation!
Then it was time to create my background. I was going for an underwater scene so I used a couple of stamp images from Lawn Fawn's "So Jelly" and "Fintastic Friends" sets. I used watercolor paper and treated it with my antistatic powder tool before stamping my critters with Versafine Onyx Black ink. This pigment ink stays wet long enough so you can easily add embossing powder over it after stamping. I used WOW Clear Gloss Embossing Powder, one of my most used embossing powders.
After stamping and heat setting the embossing powder on the whole panel I could begin coloring my images. That's when heat embossing really shows its benefits! Besides the glossy look the powder gives the stamp images it makes watercoloring super easy because you almost don't have to worry about staying inside the lines at all. It's great especially for small images like my fishes. I used a wet on wet watercolor technique which means that I just wet the whole panel with my brush using clean, clear water and then started dropping in my watercolor paint.
I also added a second layer of watercolor paint and after it was dry I colored in the critters and air bubbles as well. By letting the turquoise paint dry first I could soak up any critter coloring mistakes with a paper towel without messing up my turquoise 'water'. To finish off my background I did some ink blending around the border with Peacock Feathers Distress Ink to give it a bit more depth.

I also die cut the "hello" sentiment again from fun foam with Stick It on both sides and stuck my glittery piece right onto that. This gave my sentiment some great dimension.
And here's how my card looks finished:
I hope my glittery underwater card has given you some inspiration! If you want to see more from me
I'd love for you to follow me on
Have a great day and see you soon! ♥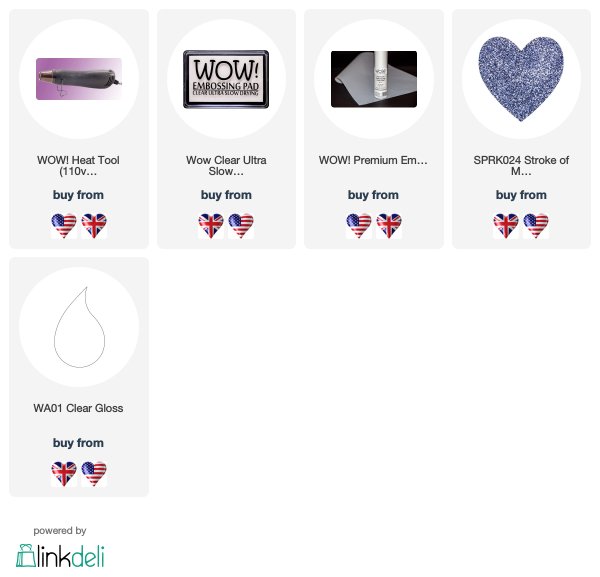 Used supplies:
WOW – Clear Embossing Ink Pad
WOW – Premium Embossing Craft Mat
WOW – Sparkles Premium Glitter Stroke of Midnight
Ken Oliver Crafts – Stick It Adhesive Sheets
Lawn Fawn – So Jelly Stamp Set
Lawn Fawn – Fintastic Friends Stamp Set
Tsukineko – Versafine Onyx Black Ink Pad
WOW – Clear Gloss Embossing Powder
Ranger – Watercolor Cardstock
Silver Brushes – Black Velvet Round No. 8
Ranger – Peacock Feathers Distress Ink
Connect With Us:
Info Site: www.wowembossingpowder.com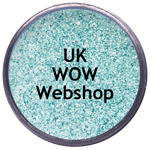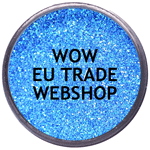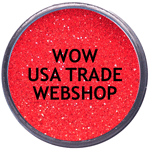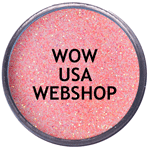 Powder Arts Thermography Warehouse LTD, Caslon House, Lyon Way, St Albans, AL4 0LB