Hi WOW! friends, Amber here sharing an easy die-cut tape heat embossing technique. Featuring bright cool WOW! Primary embossing powders and Altenew Bouquet Die Cut Tape and Graph Die Cut Tape.
All the details to recreate this easy die-cut tape heat embossing technique are in this short cardmaking video tutorial. Watch here or in HD on YouTube. While you're there we'd love it if you like, subscribe, and share this video with your crafty friends!
WOW! Monthly Challenge
Have you entered the WOW! Monthly Challenge on the Facebook Fan Page? There's still time to get your entries in for a chance to win a gift card. This month's theme is bright colors and celebration cards.
In my last post, I used a selection of warm bright Primary embossing powders. Today, I switch over to the cool vibrant Primary powders. As a reminder, all of the primary powders are single color translucent powders.
Die Cut Heat Embossing Technique
If you love heat embossing with stencils you're going to love this easy heat embossing technique! The die-cut tape eliminates the need to use adhesive on your stencil. I used Altenew Bouquet Die Cut Tape and Graph Die Cut Tape for today's cards.
If you don't have die-cut tape, try making your own by die-cutting masking paper or Post-It Tape.
Process
Apply die-cut tape to the card panel
Apply WOW! Embossing Ink Pad directly to tape & cardstock
Gently peel off the die-cut tape
Sprinkle your desired embossing powder(s)
Gently tap off excess powder
Heat set with WOW! Dual Speed Heat Tool
Altenew Bouquet Die Cut Tape
As you can see below, I used all four aforementioned Primary embossing powders with the Altenew Bouquet Die Cut Tape. I poured one powder at a time.
After each color was on the card, I poured Primary Purple Orchid over the entire card to fill in any gaps I might have missed. Next, I heat set all the powders at the same time. The areas where the powders mix on the card are my favorite!
This tape has delicate flowers and leaves. For best results peel the tape back on itself slowly so that most of the negative pieces remain on the backing paper. I needed to weed a couple pieces.
I stamped a sentiment from Altenew Hello Hydrangea in Obsidian Pigment Ink and embellished with Ebony Nuvo Crystal Drops.
Altenew Graph Die Cut Tape
Primary embossing powders are translucent. Take advantage of that property by overlapping heat embossing for a unique layered look.
The pink graph/squares were heat embossed first using Primary Marshmellow and Purple Orchid embossing powders. Then I applied a new piece of Altenew Graph Die Cut Tape and embossed with Primary Bluetiful and Blue Topaz embossing powders.
Check out the indigo color that's created where the squares overlap. Don't forget you can mix embossing powders in a separate container to make completely new colors! If you don't have a color you need, make it.
Birch Press Design Big Hello Sugar Script Die Set helped create a fun sentiment. The top layer is cut from black cardstock. The bottom shadow layer is die cut from a piece of cardstock embossed with Primary Bluetiful and Blue Topaz.
The sub-sentiment is from CZ Design Sentiment Strips Reverse Miss You. Love these sentiment strips, simply cut and adhere!
That's a wrap, guys. Do let me know what you think of this technique either here or in the comments on YouTube. Thanks so much for joining me today and I'll see you soon with more inspiration.
Vibrant Fall & Thanksgiving Cards
If you missed my last video, watch it here or in HD on
YouTube
. I'm mixing the warm Primary embossing powders creating fall leaves for Thanksgiving cards.
WOW! Products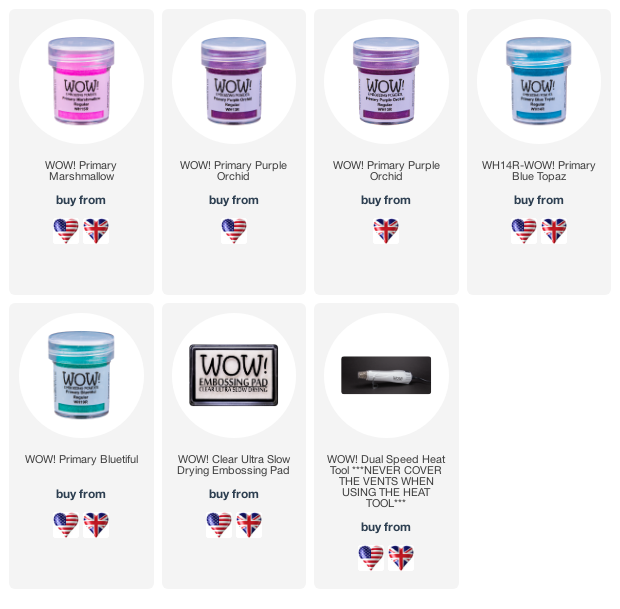 Additional Supplies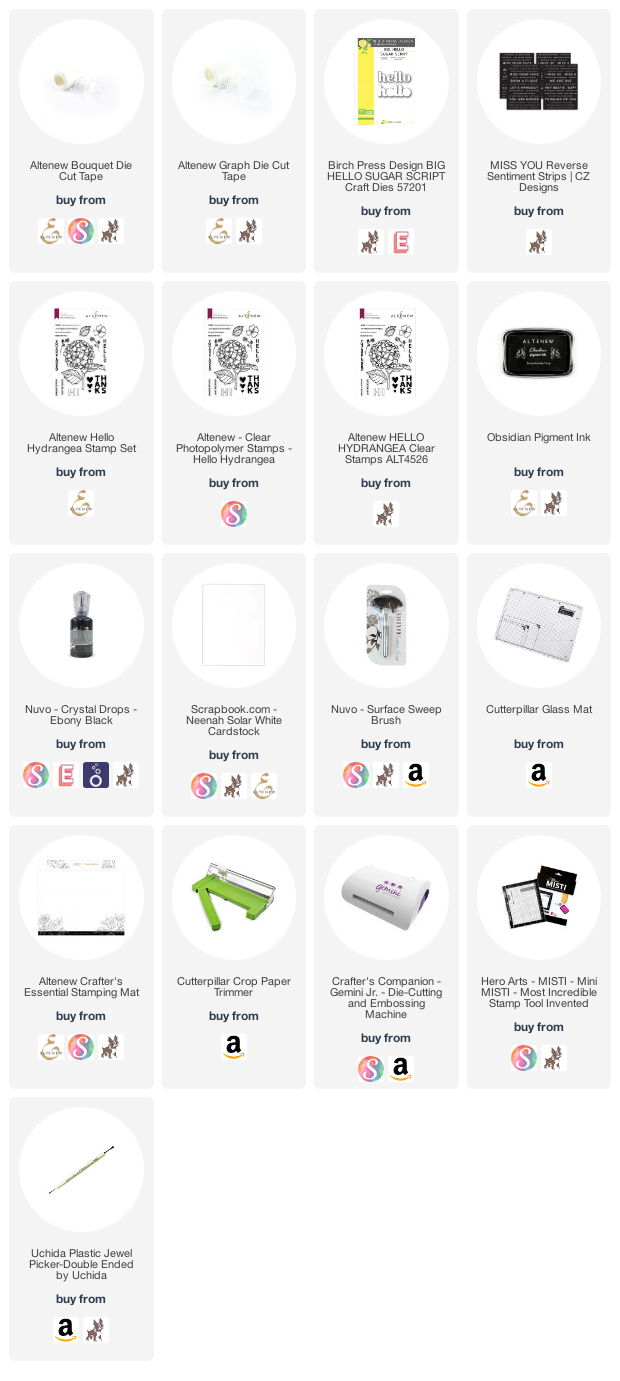 Info Site: www.wowembossingpowder.com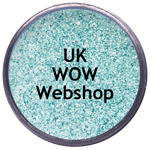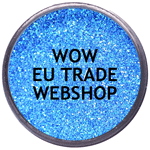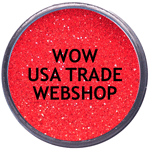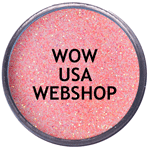 Powder Arts Thermography Warehouse LTD, Caslon House, Lyon Way, St Albans, AL4 0LB
UK
https://www.wowembossingpowder.co.uk/