Hello Crafty Friends!!
Please welcome our October guest designer Larissa Heskett. This month Larissa is going to bring you an array of projects full of techniques over on our blog. Please make her feel very welcome.
A little intro from Larissa........
I've been married to my best friend Adam for almost 15 years, and we have two handsome boys, Beckett (13 yrs.) and Greyson (7 yrs.)!! We live on our Family Farm with an Entourage of Animals, and I enjoy EVERY aspect of living a rural life. I enjoy crafting in every way, jewelry making, baking/cooking, gardening, singing, nature and taking photos. I LOVE Spending time with my Family and Friends and meeting/crafting with other creative people I've found/met online and through other events! I also LOVE to try new techniques and experiment with my supplies!! I look forward to inspiring you with the AMAZING WOW! Embossing products!! If you've never used them before you're going to be HOOKED!! THANKS SO MUCH for having me as a Guest Designer this month!!
For More Info about my Designs you can Visit my Blog: larissaheskettdesigns.blogspot.com or follow my on Instagram: https://www.instagram.com/larissaheskettdesigns/
Larissa here today for my First Post as the October Guest Designer!! October is Breast Cancer Awareness month and with so many friends and family who have battled this disease I wanted to start off this month with a couple of Encouragement Cards!! It's IMPORTANT to send these cards of encouragement especially now in these times as family aren't able to accompany those receiving Treatments and Surgeries!! They NEED to know that they have SUPPORT and LOVE!! Sending these STUNNING Cards will definitely let them know that you are with them, even if its not in the physical form!!
I started by stamping and embossing the Full On Floral Stamp Set from CAS-ual Fridays Stamps onto a Tickled Pink Cardstock using the WoW Embossing Ink and the NEW Cupcake Heaven Embossing Glitter Powder!! SWOON!! This color combo is STUNNING!!

I also stamped the same image onto white and ripe raspberry cardstock too, just so you can see just a few of the possibilities!!
Next I cut it down to create a stitched rectangle panel for my A2 Card Pane!! I die cut the CAS-ual Fridays stamps ruffled ribbon die from the center of the Panel!! I wanted to create an Eclipse Design!! If you've never tried the eclipse technique before you've got to give it a try!!
I die cut 5 more ruffled ribbons from some of the same Tickled Pink Cardstock then adhered all 5 of the die cuts together using some Ultra Bond Adhesive!! I added the Embossed Ruffled Ribbon die cut from the card panel to the top of the Stacked Ribbons and adhered them altogether to POP the ruffled ribbon up from the center of the card panel!! By using the some cardstock it really makes the ribbon POP off of the card panel!!
Next I used the WOW Embossing Ink to ink the edges of some Tickled Pink, Ripe Raspberry and some Blue Yonder cardstock and added some of the WOW! Embossing Powder Cupcake Heaven Embossing Powder to the edges to create my own coordinating glitter cardstock!! I followed the same technique to create the other scalloped frames using both WOW! Pink Sherbet Embossing Powder and WOW! Blue Glitz Embossing Powder!! I started by die cut the NND frames & flags scalloped rectangle die from the cardstock!! Then inked the edges of the scalloped frames with WOW! Embossing Ink and added the glitter powder and heat set!! I used iCraft 3-D foam squares to POP up the panel onto a Tickled Pink Cardbase!! Then adhered a Sweet Bow that I created from some Ripe Raspberry Cardstock layered over another bow that was die cut from some white cardstock that I coated with WOW! Embossing Ink and Embossed with the WOW! Cupcake Heaven Embossing Powder!! I adhered it to the center of the ruffled ribbon!! Then added a Studio Katia pearl to the center of the bow to finish off the design!!
For my next card, I wanted to create another card switching the color scheme, but using the same design!! I started by stamping and embossing the Full On Floral Stamp Set from CAS-ual Fridays stamps onto a Ripe Raspberry Cardstock using the WOW! Embossing Ink and the Pink Sherbert Embossing Glitter Powder!! SWOON!!
This color combo is STUNNING too!! SWOON!!
I LOVE that you could mass produce these cards and change up the design for a different look just by switching out the WOW! Embossing Powder that you use and the different Cardstocks that you use!! The possibilities are ENDLESS!! Also, don't just think about Breast Cancer try switching out the Colors to coordinate with the type of cancer that your special loved one is battling!!
Here's another Design using the Tone-on-Tone color scheme!! I LOVE that NO matter what color combos you choose to use the results are ALL BEAUTIFUL!!
Here's an example of a card I made using the Royal Blue Colors for those Battling Colon Cancer!! In a few Weeks I'll be CELEBRATING 4 Years in Remission!! WHOOP WHOOP!! So I truly understand the IMPORTANCE of receiving these Encouragement Cards!! I stamped the image again using WOW! Embossing Ink and Embossed with WOW Blue Glitz Embossing Powder onto some White Cardstock!!
THANKS SO MUCH for stopping by today and I hope I've INSPIRED you on ways to send some encouragement to those Battling Breast Cancer or those who are celebrating another Year in Remission this Month as we partake in Breast Cancer Awareness Month!!
Have a FABULOUS WEEK and I'll be back again to share more Inspiration ALL month long!!
Larissa Heskett 🎗

Info Site: www.wowembossingpowder.com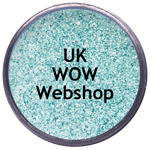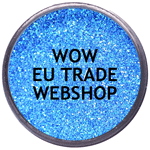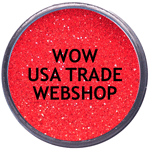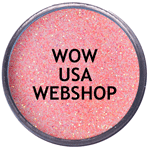 Powder Arts Thermography Warehouse LTD, Caslon House, Lyon Way, St Albans, AL4 0LB
UK
https://www.wowembossingpowder.co.uk/
If your Interested in Purchasing any of the Products I've used today from CAS-ual Fridays Stamps please know that they donate 50% of the sale

proceeds to help Breast Cancer Research for a Cure, as
Michele Gross herself is a Breast Cancer Survivor!!