Hi everyone! Carisa here today with my first post as part of the 2020 Wow! Embossing Creative Team! I am so excited to be part of this amazing team and represent this awesome company.
For my first project, I created a card and I wanted to make a card for our January Love / Valentines's Day / Wedding Anniversaries theme. To create the background I used a stencil and pressssed through the stencil with the Wow! Embossing Clear Ultra Slow drying Ink Pad. Once the paper is well saturated, I removed the stencil and add Wow! Clear Matt Dull embossing powder.
Now, heat set the powder using the dual speed heat gun. Once the powder begins to turn clear, you know it has melted. Using Clear Matt Dull embossing powder essentially creates a resist so the hearts will remain white when the watercolor is added to the paper to create a background. Once the watercolor is dry, stamp your sentiment and die-cut to create a focal point for the card.
In order to add more interest and texture to the card base, rather than using pattern paper or additional layers, use the Wow! Embossing Pad directly to the cardstock in a random motion to create an organic shape that doesn't quite go all the way to the edge. Sprinkle your embossing powder in Vintage Amethyst to the cardstock and shake off the excess. Again heat set using the dual speed heat gun. To create more dimension for the focal panel, use dimensional adhesive. A few clear, holographic sequins finish up the card!
I hope you enjoyed today's card and check out the blog each day for more amazing inspiraiton. If you make a card using this technique, be sure to tag us with #wowembossingpowder so we can check your creations out!
Until next time, do more of what makes you happy!
Please see below for a list of supplies used in this project. I use affiliate links where possible in order to continue to bring you great, quality content at absolutely no cost to you if you choose to use these links. Thank you so much!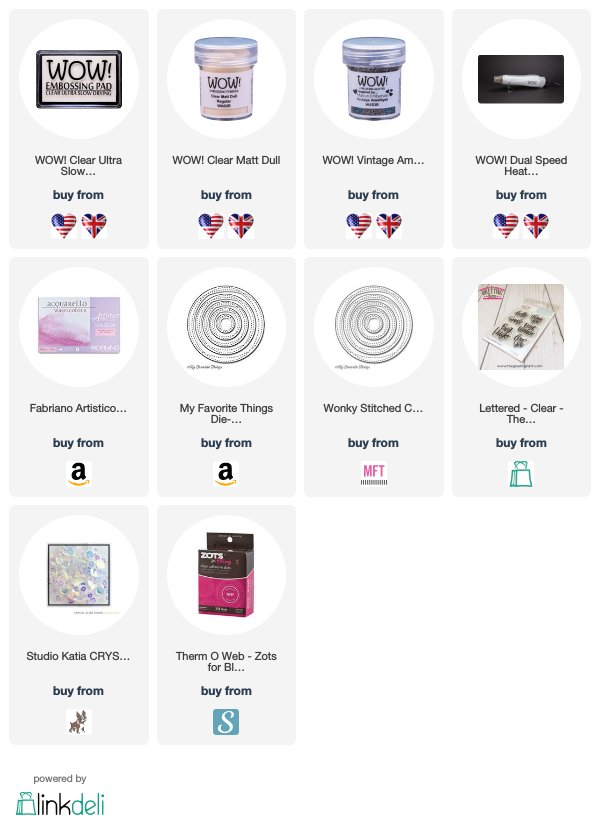 Info Site: www.wowembossingpowder.com