Hello, it's
Verity
with another video and blog post as a Creative team member for WOW! If you love to play about creating lots of watercolour backgrounds, but then don't use them all up in you cards straight away, this technique is a great way to use up those surplus watercolour backgrounds from when you were playing and experimenting. Using heat embossing, you can trap the watercolour underneath the stamped image, and then lift the colour surrounding it to get stunning backgrounds to use. Whether you use them whole, cut them up or even die-cut from them, you can easily use up those backgrounds to create stunning cards. You can use this with any of you watercolour backgrounds, however, I find it works best when you use panels with bright vivid colours.
How to Watercolour Lift video:
(You can view this directly on WOW! Embossing Powder YouTube Channel
HERE
)
How to Watercolour Lift written step-by-step tutorial and photos:
The cards today use the Tropical Stamp from WOW! Embossing powder along with Arches Hot Press watercolour paper as I prefer to use smooth watercolour paper. However, this technique works well with cold press paper as well.
Cut down your paper and fix it to a hardboard with masking tape. This will help reduce the amount of warping later on. For the first card, use a flat brush to apply clear water over the paper as we will be using the wet on wet technique to get a lovely soft blend for an ombre effect. The watercolours I'm using are the Altenew 36 pan watercolour set. Start off with Fresh Lemon at the top of the paper and working through colours, gradually overlap them to create a seamless blend. Next, use warm sunshine, sun-kissed, orange cream, Autumn blaze and Crimson.
The WOW! Dual speed heat gun is great for watercolour backgrounds as you can use the slow speed setting to dry your panels without worrying that the panel would warp. Now once this is dry, apply a second layer of colour, drying again, and then adding a third layer of colour to create bight vivid background.
This technique can also work on non-uniformed looking backgrounds as well. This time, using a number 12 round brush and add colours randomly to the panel starting off with Mountain Mist - lovely pale turquoise. Using a selection of blues, including Lagoon, Ocean Waves, Dusk and Persian Blue, continue to add the colours haphazardly. As with the other background, dry the panel in between layers, and add another two layers of colour to intensify the background. Of course removing the masking tape when the panel is dry, is the best part.
So to lift the colour up, we need to first heat emboss the stamped design. P
lace the tropical stamp in your MISTI and using WOW! Clear ultra slow drying embossing pad, stamp the design onto the panel. If you've used cold press watercolour paper, I recommend doing this 2-3 times to ensure the image has stamped well.
To trap the colour, but to still be able to see it, we need to use Clear Gloss embossing powder. Once heat-set, the clear gloss will have a lovely shine to it but you will still see the colour of the paper beneath. This is great for a tone on tone backgrounds. And you could leave it like this. However, the watercolour lift can increase the contrast between the stamping and the background enhancing the design.
For the watercolour lift, you need a spray bottle filled with clear water and some clean paper towel.
Spritz the card panel quite liberally with water so you can see the water is starting to form beads on top of the paper.
Then use the towel in swiping motions back and forth to lift the colour up. You can do this as many times as you like to increase the contrast.
To turns these into cards, apply fun foam to the back of the panel with double-sided tape to remove any residual warping. For the first card, time the panel to have a 1/4" border and added a white embossed sentiment from Altenew Smiles & Hugs stamp with WOW! Opaque Bright white embossing powder.
For the second panel, trim this down slightly, mounting this onto a UK A6 card base and add a black stamped sentiment from Altenew Cherished memories.
I also created third card using the offcut from the second panel. This created a lovely pop of colour to help ground an embossed sentiment onto the front of a card. All of the cards were finished off with Ice Crystal sequin mix from Lucy's cards and adhered on using Gina K Connect glue.
How to Watercolour Lift WOW! Supplies used: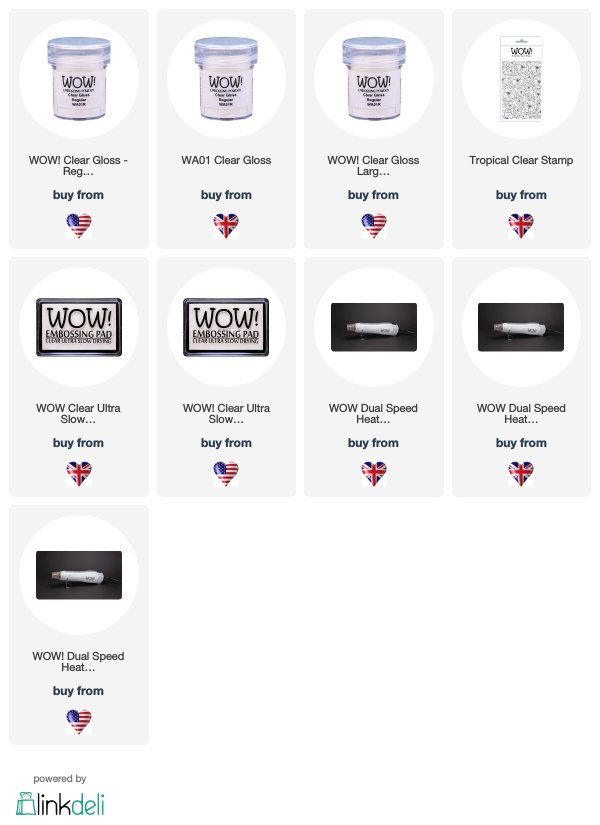 Other supplies used:
Stamps used: Cherished Memories, Smiles & Hugs, Reason to smile (Altenew)
This technique is such a fun technique and a great way to use watercolour backgrounds in your cards especially if you have stack building up.
What's more you can even go further with these are die cut from them, create die cut sentiments or use it for an eclipse card. The possibilities are endless.
I hope you enjoyed today's video and stay tuned for more to come. If you make a card with this technique, make sure to tag us
#wowembossingpowder
so we can check your creations out!
Till next week,
Verity