Hi Guys,
Before I say anything else, can I just say a great big THANK YOU to all our followers and readers, you really do make it all worth while !!
For this month,
we are challenging you and the design team with the theme "TRIPLE EMBOSSING" We would lo
ve it if you play along with us :) You can link up your entries using our link below ! The closing date for this challenge is 27th October 2017. The winner will receive a gift voucher for £15.00/$15.00 to treat yourself to some WOW! goodies via our website.

You MUST use this technique in your entry.

Have fun !!!!
But first our winner from the Resist Technique Challenge is Verity Biddlecombe with this
gorgeous design…
http://prettylittlebutton.com/faux-metal-embossed-resist-just-note/
Congrats Verity, please E Mail marion@wowembossingpowder.co.uk to claim your prize.
THANK YOU EVERYONE who took part, there was some fabulous projects.
Honourable mentions go out to Carol Harper, Vinita Jain and Ionabunny Absolutely loved your designs.
Don't forget to tell your crafty friends about our challenges, let's share the love !!
As usual I go with a simple a design, what I love about this is the focus is all on the heart. Now I say the challenge is Triple Embossing, but I may have cheated a little bit !!!
I sort of done a double triple embossed effect, it could catch on to become a new technique, who knows !!!
Let me explain
…
I always work on thick chipboard for this technique as it gives stability, if you're putting lots of layers on card stock it will start to curl !!
I start off by pushing my chipboard heart into my WOW! Ink Pad, making sure I cover it all, then sprinkle WOW! Heather Embossing Powder on and heat set.
There's two ways you can do the next step, either, whilst the heart is still molten and hot quickly pour another layer of heather on, or wait till it cools and put it into the ink pad again and repeat.
Heather is a Colour Blend powder, check out the colours separating, the more you heat, the more they move !! Next we want to cover it with WOW! Emerald City Embossing Glitter, as this is a trasparent powder, it will take on the colour from beneath.
You can get some great results playing with the different powder properties, here's a link to our info site, where we list all the powders and their properties…
INFO SITE.
Sorry, a little diversion there !!
So there's your three layers but now we're going to add three more layers of WOW! Clear Ultra High, this will give it a beautiful enamel effect, this alone is gorgeous, once you're at your last layer, get your stamp ready, I used one of my favourite background stamps WOW! Pop !!! Some people ink up the stamp with the clear ink, but you don't have to on these stamps. When you've melted it all, make sure its molten and then lay the stamp on top, pushing in to it, let it sit for about 30 seconds.
I die cut a stitched rectangle and mounted it onto my card base, then die cut the word 'With Love' using double sided tape mounted onto card stock, peeled the front off and sprinkled it with WOW! Sparkles in the Thistle shade, glued it to the heart and mounted the heart on the card front.
This is just one way with 'Triple Embossing' What will the design team come up with, I can't wait to see their creations !!!
Here's what I used to create this card :-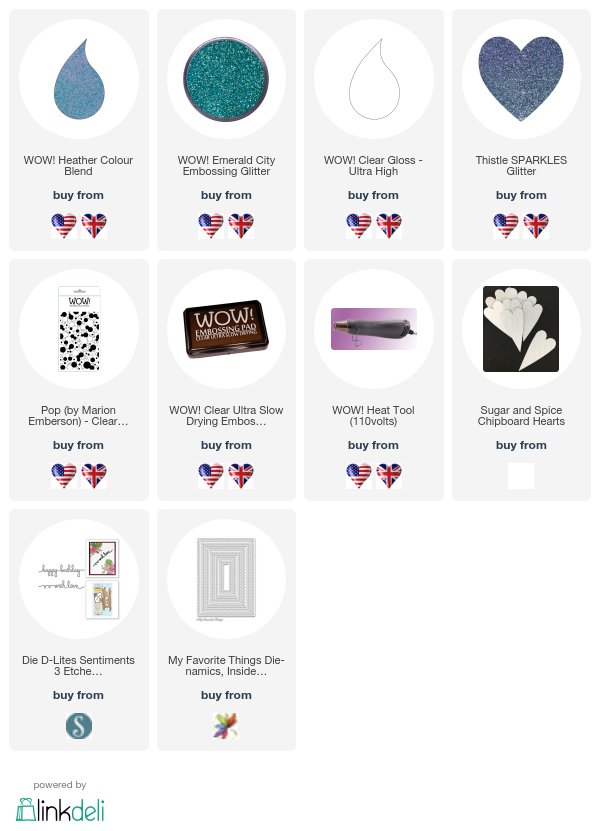 <!-- LinkDeli Code End —>