Hi Guys,
For this month,
we have challenged you and the design team with the theme "FOIL IT" We would lo
ve it if you play along with us :) You can link up your entries using our link below ! The closing date for this challenge is 24th August 2017. and the winner will receive a gift voucher for £15.00/$15.00 to treat yourself to some WOW! goodies via our website. You MUST use Foil in your entry !!

For your chance to win a selection of WOW! Foils and accessories, leave a comment saying why you want to win.... it's as simple as that !!!
Here's my take on the challenge...
I absolutely LOVE the WOW! Fab Foils !!! Yes they work with a toner printer, a laminator, our Bonding Powder but for that quick simple card they work wonderfully with adhesives.
I received the most gorgeous thoughtful gift recently from a lovely young lady called Casey, so I made her a thank you card, I know she loves shiny things, so foil was perfect !!
I started by cutting black card to the finished size I wanted, then a white piece slightly smaller than the black.
Using a hexagon die and a piece of Stix 2 Double Sided Adhesive Sheet I die cut it and kept a few of the solid hexagons and the outline.
I cut a few extra pieces of the outline off to give it a more interesting shape.
This was then adhered to the white card stock
Remove the backing, place the Fab Foil colour side up on the adhesive and rub, lift and repeat, you can keep using your foil until there's no colour left.
With the same die I cut a few scraps of patterned paper and glued these in the design. I also adhered a few of the solid hexagons from the double sided adhesive.
Carefully peel the backing off and again, colour side up, place over the adhesive and rub to transfer the foil.
I stamped the 'Just to Say' sentiment on a piece of white card and cut into a banner, mounted it with foam pads and added a few sequins to add to the shine !!
Thanks for looking.
Hope you have fun with Fab Foil !!
Marion xx
SUPPLIES USED :
For your convenience I've listed the WOW! items used in these FAB projects.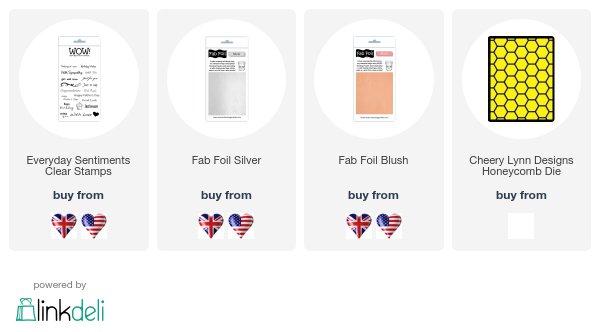 The WINNER of the JULY CHALLENGE is CAROL HARPER with this fabulous project.
http://538194912998600598.weebly.com/carol-stamps/challenge-multicolor-embossing
Congratulations !!!! contact me at marion@wowembossingpowder.co.uk to choose your prize. I'd like to give a couple of honorary mentions to these guys for their fabulous projects also…. RobynO
http://waterlilycardsbyrobyn.blogspot.co.uk/2017/07/happy-birthday_4.html
and Art Tart - Melissa
https://talkingarttart.blogspot.co.uk/2017/07/icad-38.html
Thank you
everyone who entered, we really appreciate your inspiration and love that you inspire others !!
Your turn to show us what you've got !!
Add your entries here..