Good Morning Lovely People!
Thank you for stopping by the WOW! Embossing Powder Blog and I am filling in today's spot with my take on this month's challenge of "Multi-Colour Embossing." I needed to make a card to send to a friend so I gathered my supplies and got to work!
So to start off, I cut my cardstock to create a 5.5" x 5.5" card base and cut a 5" cardstock panel to decorate. I try not to touch my card stock too much so that I don't get any sticky fingerprints on there! This will give me a cleaner heat embossed image:
So I inked my Go Figure stamp with my cleanest WOW Embossing Pad ...
And realised that my cardstock panel was bigger than my stamp! So, I stamped the top part first:
And then I re-inked my stamp and stamped where the design ended. I love this stamp so much and find myself reaching for it for all kinds of projects. Once you have heat embossed your image, you won't be able to tell where the second stamped image began!
I then chose two embossing powders: Primary Blue Tang and Colour Blend Oceanic:
I sprinkled Colour Blend Oceanic randomly in some spots and tapped off the excess and put it back in the jar:
And then I covered the whole panel with Primary Blue Tang:
I tapped off the excess and put it back in the jar and then heat set the whole panel:
I felt like I needed something extra, so I use Distress Inks (Barn Door and Walnut Stain) to blend on to the background. The embossed design will "resist " the ink and remain the same colour! You can wipe the panel with a clean tissue to get rid of the excess ink off the embossed surface.
I die-cut the word "Thanks" (Lil' Inker Designs) with white cardstock and then stamped "Sweet Friend" from the WOW Just Saying Stampset with black ink:
I cut the Sweet Friend sentiment to make a tiny banner (my favourite look!). Then I assembled my card, gluing the sentiment down and adding dimensional foam adhesive behind the little banner and behind the panel and added it all to my card base:
I am so pleased with how it turned out and I hope that you got a small peek into how I put my cards together and what I do when I have an "oops" moment, heehee!
Take care and have a wonderful day,
SUPPLIES USED :
For your convenience I've listed the WOW! items used in Tania's Gorgeous project. The blue button will take you to our UK/EU site and the red button will take you to our North American site.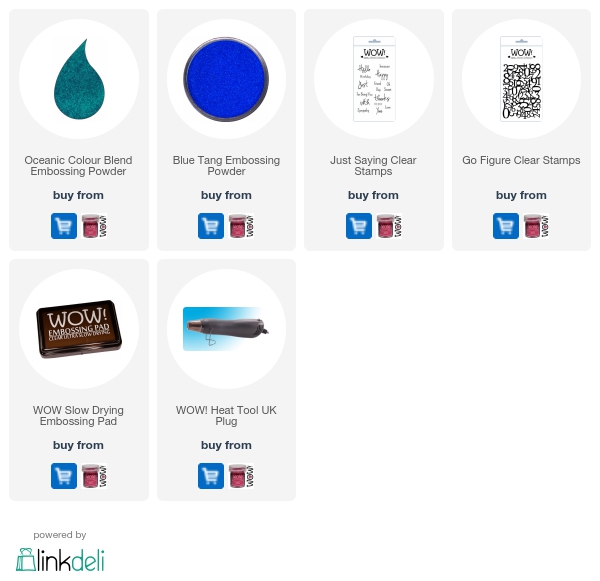 <!-- LinkDeli Code End —>