Hello, it's
Verity
with another video and blog post as a Creative team member for WOW!
Colour blend embossing powders are such embossing powders to use and WOW! Embossing powders has a whole host to choose from. Each time you use them you get visually stunning and unique patterns that can really take a design up a notch. Today' I'm showing you 4 easy ways to use them in your paper crafting, but they would also make perfect powders for mixed media projects.
In today's video, I'm using 3 different colour blend powders, Black magic, Perissa and Fizz from the Confetti trio. These powders contain a mixture of colours but also a mixture of different size embossing powder - a mixture of fine/normal and chunky powders. It is so fun to see the chunky powders melt and mixed into the finer normal powder which is often the base colour of the pot.
3 ways to use Colour Blends Embossing Powders video:
(You can view this directly on WOW! Embossing Powder YouTube Channel
HERE
)
3 ways to use Colour Blends Embossing Powders written step-by-step tutorial and photos:
For the first technique, we can use the powders to emboss layered die cuts. These embossed die-cuts can create really amazing focal elements to a card and the powder just shines. Die-cut the Altenew Mega Love die 3 times out of white cardstock and use Gina K connect glue to adhere the layers together.
Next, take the Clear Ultra Slow drying embossing pad and smoosh this onto the layered die cut covering it in ink. The first powder we're using is the Fizz Colour blend from the Confetti Trio. This has a beautiful red/pink base with large chunks of white and silver powder mixed in. As the chunk powders melt, you get a speckled look to the embossing. For large dies like this, give 2-3 layers of embossing powder for a smooth, bold and dimensional look.
For the second technique, you can use the colour blend powders to emboss solid stamps. You can use these powders on any of your stamping, but remember that they contain large chunks of powders, so they won't keep the fine details with using fine intricate stamp designs. The bold spaces of the leaves in the Altenew Leaf the canopy stamp set is great for this technique.
Place the two leaf stamps into your MISTI and stamp these with the clear embossing ink onto white card stock. For this card, cover the images with Perissa embossing powder. This has a lovely copper base to it with chunkier gold and silver powders mixed in.
Make sure you have kept your stamps in my MISTI so you can go back and stamp it again to build 2 -3 layers of the powder up. This allows more of the chunkier powder melt in and creates a lovely blend between the colours. It also creates more dimension to the leaves.
Technique 3 uses the colour blend embossing powders to create background panels. This technique really shows off the stunning effect of the powders as they melt. To create the panel, apply ink to a piece of white cardstock.
Black magic consists of fine black powder with chunks of gold and silver embossing powder. Again, cover again with ink and powder 2-3 more times for good coverage.
Last technique shows you that once you create embossed panels like we did with technique 3, you can then die cut from those panels too. This is great when you have smaller dies which would be a bit fiddly to emboss like we did in technique 1.
Use the Altenew fine alphabet dies and a glass mat to spell out the word Congrats. You will find it helpful to use the lines on the mat to align the letters and then place a piece of wash tape over the top to keep all the letters together. Now you can pick up all the letters and position over the panel ensuring the letters cut straight.
Run this through your die cutting machine and remove the letters but make sure you keep the inners of the letters of the A and O etc.
To turn these into a card, foam mounting the die-cut embossed panel onto a white card base. As we kept the inners of the letters, just go back in and add those back onto the card.
For the die-cut letters, use a T-ruler to align the letters up straight on a white card panel and using thin foam strips from Darice to adhere them on for dimension. This card panel was trimmed down to have 1/8 border and then adhered onto a white card base.
These two cards were finished off with sentiments from the Altenew Leaf Canopy stamp set.
For the embossed love die, this was adhered to a white card panel using Gina K Connect glue. Before adhering it down, add a few score lines with your bone folder and scoreboard just for some tone on tone pattern to the background. This card was finished with a stamped sentiment from Altenew Sentiment strips stamp set.
For the embossed leaves, use two sentiments from the W Plus 9 Hello & thanks stamp set and stamp this in versafine onyx black ink.
If you've never tried colour blend embossing powders, go out a pick up a pot and have a go. They are so fun to play with and create visually stunning patterns that help accentuate your papercrafts. WOW! Have a huge range to choose from so there's one for everybody's style.
3 ways to use Colour Blends Embossing Powders WOW! Supplies used: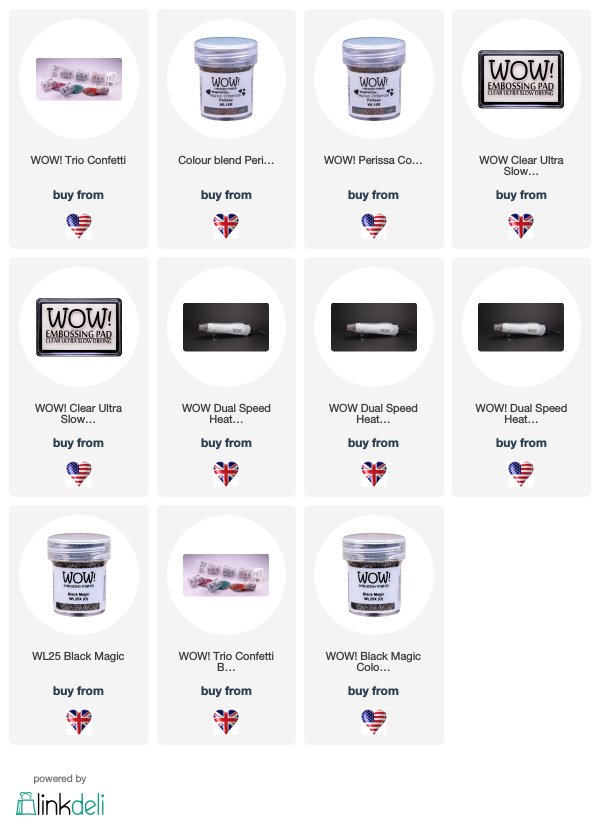 Other supplies used:
Dies used: Mega Love (Altenew), Fine Alphabe (Altenew)
Stamps used: Leaf Canopy (Altenew), Hello & Thanks (W Plus )
I hope you enjoyed today's video and stay tuned for more to come. If you make a card with this technique, make sure to tag us
#wowembossingpowder
so we can check your creations out!
Till next week,
Verity
Pretty Little Button Blog
|
Instagram
|
Facebook
|
YouTube
Info Site: www.wowembossingpowder.com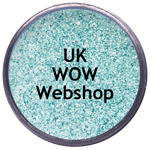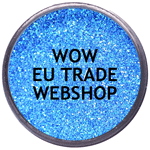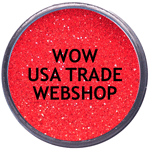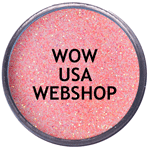 Powder Arts Thermography Warehouse LTD, Caslon House, Lyon Way, St Albans, AL4 0LB