Hi Guys,
Simple, yet so effective..
And the winning doesn't stop there... we randomly picked a commenter and that winner is ....... ALISON HORNE.
Send me your details ladies and we'll have prizes winging their way to you... marion@wowembossingpowder.co.uk
For this month,
we are challenging you and the design team with the theme "RESIST TECHNIQUE" We would lo
ve it if you play along with us :) You can link up your entries using our link below ! The closing date for this challenge is 26th September 2017. and the winner will receive a gift voucher for £15.00/$15.00 to treat yourself to some WOW! goodies via our website. You MUST use this technique in your entry.
Here's my take on the challenge…
The Resist Technique is basically heat embossing and applying ink, paint or other colouring medium over the top and wiping off, the embossed areas will 'resist' the medium, but it will sink into the background leaving your embossed area 'on top'.
For this I used vellum and Distress Oxide Inks, they took to the vellum perfectly !!
Stamp and emboss the two flowers from the WOW! Thankful stamp set, using WOW! Opaque Bright White Embossing Powder, I did 3 large and 3 small. I also did a take on this card using our Metallic Platinum Embossing Powder… Oh my, I love it, not quite Gold, not quite Silver, just beautiful !!
Anyhoo's back to the project !!
Cut them out, I went as close to the edge as possible without cutting into the design, not bad as I didn't have my glasses on !!!
Colour with the Distress Oxide Inks on top, I used Cracked Pistachio, Broken China and Worn Lipstick. Let it sit on the vellum for a few seconds before wiping off with kitchen towel.
I randomly placed the flowers, before sticking down, so I could see where I wanted to stamp the leaves, these were stamped with Distress Oxide Peeled Paint.
Adhere the flowers with a foam pad, then stamp and emboss the sentiment with Peeled paint and WOW! Clear Gloss Embossing Powder.
Finish off with a bit of Sparkle, add some wet glue to the flower centres and sprinkle with Bridal Sparkles Premium Glitter, shake off excess. Stand back and admire !!!
This is one of the most simplistic ways to 'Resist'. Let's see what you've got !!!
Marion xx
SUPPLIES USED :
For your convenience I've listed the WOW! items used in in these projects. The blue button will take you to our UK/EU site and the red button will take you to our North American site.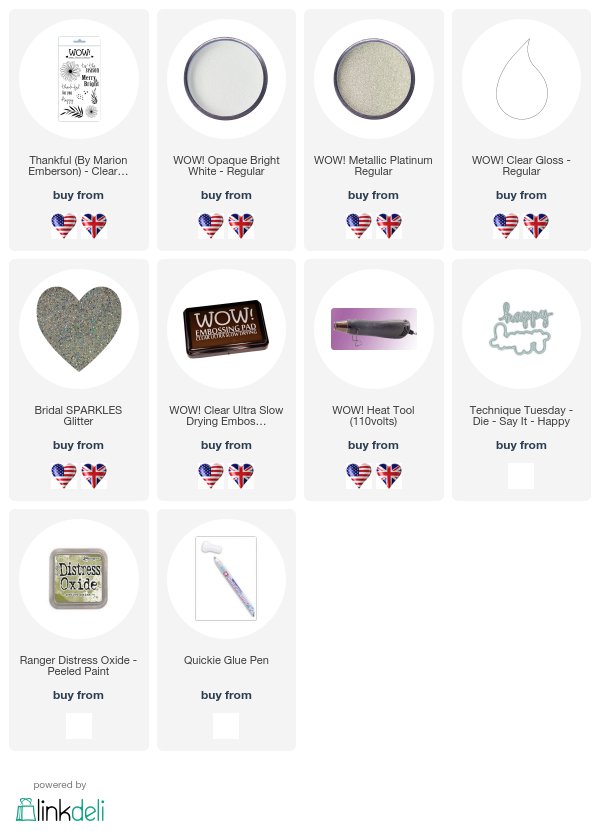 <!-- LinkDeli Code End —>